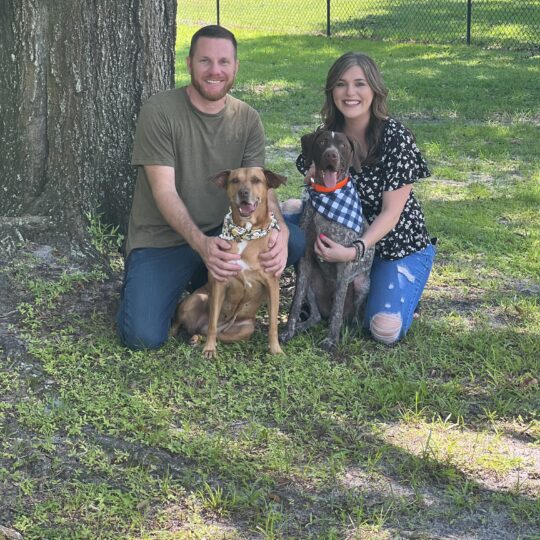 Camp Lazy Paws Pet Resort, LLC.
Kaitlyn is ecstatic to finally be fulfilling her lifelong dream of owning her own pet boarding facility! With 11 years experience in the veterinary field and a lifelong passion for animals, you can rest assured your pets will be in the very best and most capable of hands!
Erik has owned multiple successful small businesses in Florida over the last decade, has a true passion for animals and the outdoors, and has been a loving dog owner for all his adult his life.
With their combined experience and passion, they offer the safest and most loving environment for your pet!
Erik & Kaitlyn currently own two dogs: 9 year old rescued Visila mix Kirsi, and 9 month old Chief, a German Shorthaired Pointer.
Kirsi had spent two years of her life in a kennel prior to being rescued, and Chief keeps them on their toes with his never ending energy! Both bring so much joy to every day life
"As a couple we have always had a passion for travel, but as dog owners we struggled to find a facility we could trust to provide our fur babies with the same care that we do. We know first-hand the anxiety that can accompany leaving your pet in someone else's care and want to provide our clients with exactly what we always wanted for our own babies. We vow to treat every pet like they are our very own and consider it an honor to be trusted to care for them."
After searching for some time, they finally found Camp Lazy Paws, and at their very first visit knew it was the perfect fit! They look forward to the opportunity of getting to serve their new community, getting to know each and every one of you (and of course your pets), and most of all the opportunity to ease your mind knowing your pets are being left in the best hands.